A C U R A &nbsp L E G E N D
---
1991 L Sedan
Frost White on Custom Blue Leather
Gallery

---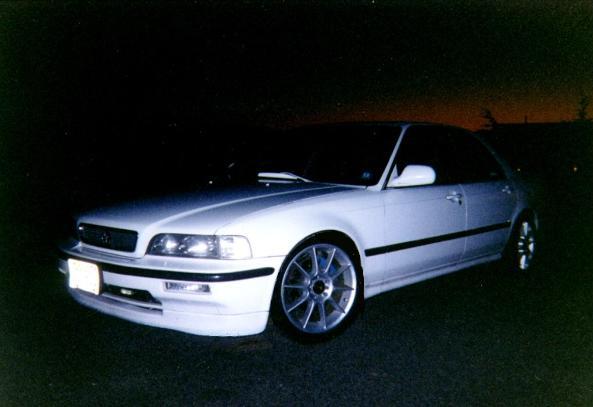 A brief summary about my Legend

---
My Legend was originally purchased by my father in June of 1991 from Smithtown Acura in Smithtown, NY on Long Island. He owned the car for 9 years.

In February of 2000 I took possesion of my 1991 Legend from my father. It had ~120,000 miles on it at the time, an RM Racing intake and was in relatively good condition. I graduated college at that time as well. I started doing light modifications almost immedietly to my Legend. These include fog lights, painting the skirts and rims.

I started a new, my first, full-time career job in April. A month later I blew a headgasket. Not having a backup car this was a rush job my father and I did. While I was at it I did some cleaning and light porting to the heads, intake and exhaust manifolds. I mostly cleared away casting impurities and shaved down some rough surfaces without getting too deep into the heads.

After doing this major work I started doing other small mods, exhaust, suspension, new brake rotors, some cosmetic work and what-not. In April of 2001 a group buy was assembling on the Acura Legend Forums for custom Katskinz leather. I got in on this group buy. Around May of 2001 I got the kit and started installing it myself. This turned out to be a 2 months process. I finished up late July early August.

In April of 2001 I took her to the track for the first time. I managed to pull my best time of 15.46 @ 90mph in the 1/4 with an average of ~15.6 for the day. At this time performance mods were simply my intake, exhaust and my mild porting/polishing job. A stock 1991 Legend L automatic was ran by Car And Driver who managed and average of 16.1 in the 1/4. I had roughly a 0.7 second improvement.

Also around May of 2001 I started to notice something wrong with the tranny. It was getting rough, flaring, and slipping. July of 2001 the tranny blew. Second gear went out with a bang, a real loud bang. I drove around with no second gear for about a month while researching solutions. My final solution was to get a high-stall torque converter from Pro-Torque on Long Island and I purchased a Level 10 kit. I had my transmission rebuilt with the Level 10 kit by a place in NJ. I got the Level 10 kit to assure me I would not have to worry about blowing out my transmission again and I won't have to worry about future horspower and torque increases.

Shortly after this I noticed after some hard driving I could see steam rising up from the overflow tube on the transmission. It was overheating. So I installed a B&M Tranny cooler. This was in November of 2001.

Things were good for the next several months. Some more mods came such as my reverse indiglo guages, window tint, wire mesh grill, etc.. Then one Friday evening during rush hour traffic she started overheating. I was sitting in hours of traffic attempting to make my way over the Throggs Neck Bridge which was narrowed to two lanes due to construction. I was overheating and pulling over every 5 minutes to bleed the system in traffic. I did this for 2 hours. I finally reached the tolls and got over the bridge without overheating again. After searching into the problem, blown headgasket #2.

This brings me to current date. I had an 89 Camry throughout college which I blew the engine on. I replaced the engine about a year ago and now use it as a secondary car. I decided to make this my daily driver for the time being and do some more serious modification to my engine.

Working with Leon Millete and KMS I am having custom metal headgaskets made, no more blown headgaskets. I am taking lots of time to port and polish everything much more aggressivbly. I have my heads completely dissasembled and I am rebuilding them with parts from a set of Type II heads I got from a 95 Coupe in a salvage yard. I almost decided to go to Extrude Hone for my exhaust manifolds but time and budget restraints stopped me. Headers are currently unavailable for Legends but are in the works by Christian (DV8 on the forums). I also have a second engine, a type I engine from a 94 Sedan that was starved of oil. I am using parts from it. Thanks to Pete from Clinton Acura for this engine.

September 8, 2002
I plan on finishing the Engine rebuild at the end of September, I started the last week of July.

November 3, 2002
Things did not go as planned.

December 15, 2002
Got the engine together and started the day prior to this (Saturday). She started up fast and ran nicely. However not all was well inside the engine. I found on Sunday night Cylinders 1 and 5 to be flooded with anti-freeze.

This coming weekend I pull it all back apart.

January 18, 2003
Still researching and waiting on the copper headgaskets.

I purchased a backup car in the meantime, a 1989 Acura Legend L Sedan 5 speed, blue on blue, 135k miles.

This is a very nice car for it's age and should make for a great backup car.

February 18, 2003
The 1989 Legend is totaled. After a heavy snow storm a poorly plowed highway caused me and later a few other cars to get cought in it. My car was rolled twice and hit by a pickup truck. I am fine, she was totalled :(

April 8th, 2003
Got my '91 L running! There are some engine management issues that have to be worked out but aside from that all is well!!

July 12, 2003
I purchased a 1999 BMW 328i 5speed Sedan. This car is amazing :) This is replacing my 89 5speed as my Legend has been having many problems as of late because of my heavy modifications, she left me stranded a week ago.

March 2004
Over time my Stromung exhaust started getting rusted. I love this exhaust and didn't want to loose it to rust. Luckily the rust was mostly surface rust minus a small hole in the muffler.

I removed the muffler, cleaned it all up, patched the hole and painted it. It came out as good as new. I wrote up an entire how-to for this and will link it when I find the link. I also have a gallery of pictures here.

July 3, 2004
My good friend Ramy sold his Legend so I bought his Rims. 17" Exel Ennios in hyperblack. This rims are gorgous. He shipped them to me, I spent a bit of time cleaning them up as good as new and I put them on. They look superb on my Legend. I have many pictures here.

October, 2004 -- Lots to talk about
I haven't done much in a while to her. Lack of money and time prevented me. However, I have since gotten a better paying job with shorter hours (amazing but they do exist) so I have continued work on my Legend. The first thing I did was get the rims I mentioned above. Additionally I am in the process of installing an Apexi Super-AFC II to solve the pesky engine management issues I have eben having with the ported Type II engine. This has been put on hold while I wait for a new ignitor that has failed.

I have also installed an Addco rear sway bar that is 7/8" thick and solid metal versus the factory 3/4" hollow bar. A front sway bar is coming.

The front suspension needs some serious work so over the winter I will be delving into that and as the weather gets warmer some new paint is in order :) She's finally coming together.

November, 2004
I solved my "ignitor" problem, which, after much troubleshooting was a faulty groundwire and finished installing my Apexi S-AFC II. I have been spending some time playing with it and tuning it on the road. I will eventually need to hop on a dyno but I want to finish off a few more items before dropping down the cash for some dyno time.

I have managed to solve all my low-end engine problems which included stalling, studdering engine and low RPMs, and a few other issues as well as increase my high-end power. No more check engine lights at all. However, I need to get more fuel into the engine and I have noticed anything over a 10% increase above 4000RPM seems to cause the engine to studder and buck. It appears the fuel pump can't provide the necessary fuel. I have to confirm this but this will probably be my next upgrade.

December, 2004 (edit)
I got engaged (and divorced in 2011), and my Legend was on hold for a long time.

February, 2005
Got my one piece JDM headlights over the holidays direct from Hong Kong :p. I removed my front bumper and yanked out the OEM USDM headlights. I started work on a new wire harness. The goal is to convert the old hi-beam location to a fog light and the old low beam to a high beam/low beam combo via a H4H bulb.

April, 2005
I purchased a few relays, have a wiring diagram and just need to locate the H4/9003 sockets and H4H bulbs at this point. I needed to drive her so I threw the headlights and wired up the fog lights to a switch inside the car on a single relay. They are working just fine.

Additionally I replaced the factory fuel pump with a Walbro 255LPH High Performance fuel pump.

July, 2005
I finally built and installed the passenger side headlight module. This is working like a champ. Pictures of this install can be seen in the gallery.

Things are moving slowly now as my time has been getting taken up lately with planning my wedding and getting ready to move to a new place.

April, 2007
It's been a while since an update. Pretty much November 11th, 2005 I got married. Sometime shortly after I moved the car from my parents' place in to my ex-wife's grandmother's garage. She lived a short distance from our first apartment. Our first year of marriage was busy and in July of 2006 we bought our first home. Two months later we got a dog and this past March we found out a baby is on the way. The Legend sat in her garage for well over a year before I finally did bring it to hour new home. After sitting for that long I replaced the battery, put air in the tires and she started up instantly on the first try. Amazing.

Since coming home I replaced a broken rear tail light and discovered the reason my fog lights were dead. I need to pass inspection so I have to finish the drivers side headlight and replace the cat. A Mangaflow 94005 is looking like my best bet for that. A new job is coming my way and I will be commuting ~90 miles a day. I was hoping to split this between cars, using the Legend as a daily driver once again. I have a large laundry list of items to fix things up. Among them is to raise the car back up 1", leaving it still lowered just under 2" total. I will be commuting in to Jersey City and the roads there are quite unforgiving. Also fixing the A/C will be of great help.

September 2009
Two years brought way more change than I ever could have imagined. We had a baby, I lost my job, totalled my BMW and now my Legend is beat up due to to lack of time and funds. I needed something reliable to get to/from work as well as something that required less of my time to maintain. This is the end of the line for my Legend... I traded it in under the government's Cash for Clunkers (CARS) program. Something that killed me to do, but I did it. I bought a 2009 Cobalt SS Sedan for an incredible bargain after many discounts.

Maybe one day I'll end up owning another Legend. Who knows. From a story that started when I was 14 years old, and now ends when I am 32. It's the end of an era for me.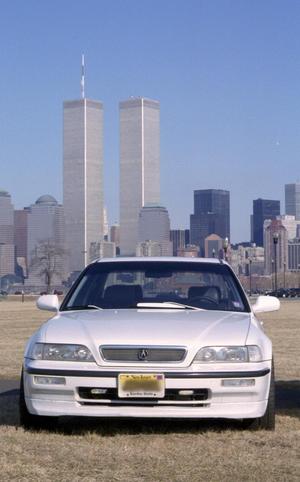 The End.
---
If you wish to get a hold of me I can be reached by:
NickD on the Legend Forums
Instant Messenger, screen name: funsac22

Modifications
Performance Modifications:
---
RM Racing Intake
Ported and Polished Heads, Intake Manifold and Exhaust Manifolds
C32A1 Type II Cams, valves, springs, and rocker arm assembly modified to work in Type I heads.
Type II Intake Manfiold
KMS Custom Copper Head Gaskets
ARP head bolts
Bayou Performance Stage II Chip (Formally Dinan)
Apexi Super-AFC II
Walbro 255LPH High Performance fuel pump
Stromung Exhaust
Pro-Torque High-Stall Torque Converter
Level 10 Performance Stage 3 Auto Transmission Rebuild
B&M 8"x10"x1.75" Transmission Cooler
Koni Struts (1" Drop)
Eibach Springs Pro Kit (1" drop)
Ingalls Camber Kit (Front only)
KMS Billet Aluminum Strut Bar
Addco 7/8" solid rear sway bar
Brembo Cross-Drilled rotors (all 4 corners
Exel Ennio 17" Hyperblack Rims
Team Loco 150 17" Rims removed
Dayton Daytonas ZR 235/40/r17
Show Parts
---
Ford Engine Blue painted calipers
Wire Mesh Grill
Pilot Fog Lights removed
35% Black tint all around
"Legend" Aluminum Door Sills
JDM One Piece Headlights with JDM wiring conversion
APC Clear Corner Lenses
APC Clear Bumper Lenses
4G Silver Faced Reverse Indiglo Guages
Katskins custom Two-tone Leather
Brushed Alluminum Pedals
Body painted front/rear lower spoilers and side skirts
Painted "Honda" & "3.2 Liter V6" on Fuel Injector covers
Painted strut bar
Wire covers in engine bay
Painted Wiper Blade arms
Audio System
---
Pioneer DEH7400MP Headunit
Legacy 160 watt 4channel amplifier
* Coming Soon *
---
Custom dual exhaust system
Second Stromung Exhaust
Dual High Flow Cats
A new paint job
[ My Legend Gallery ]
Last Updated: May 11th, 2017